We have tried to keep text to a minimum across the site, in the hope it makes it as easy as possible for you to quickly watch/listen to as many great acts as you wish, before deciding the wedding ceremony musician, function band or DJ that you feel is the best fit for you.
​
Having said that, we know that you may well have a few questions that you would like to ask before choosing your Tall Dog Music act of choice. Below are some of the frequently asked questions we receive, which we hope is a helpful starting point. If you have any additional questions other than below, please do feel free to get in touch via our contact page!
FAQs
General FAQs
How Long Will My Act Perform On The Evening?
---
You are welcome to have your act perform for as long as you wish! However all of our quotations are based on our standard performance times which is 2 Hours for all our live musical artists, divided up over the day/evening as you wish. Most often this will be 2 x 1 hour sets, or 3 x 40 minute sets. 5 Hours (music playing from 7pm until midnight) for our DJs
---
What Is Included In The Price When I Receive My Quotation?
---
For all of our acts, our pricing includes all lighting, travel and equipment costs, unless otherwise stated. Some acts, such as certain DJs offer additional lighting upgrades which we shall let you know about should this be an option available to you.
---
Will My Act Have Public Liability Insurance and PAT Tested Equipment?
---
Yes! - all Tall Dog Music acts have full public liability insurance cover and PAT tested equipment should your chosen venue require this documentation. Certificates for any of our artists or DJs available on request.
---
What Area Do Tall Dog Artists and DJs Cover?
---
We are based in Hertfordshire and are approved suppliers for many venues locally. However, should you fall in love with a certain act and your venue is further afield, please still get in touch as many of our acts are happy to travel to your chosen destination should they now be the only option for you having seen them!
---
If We Would Like To Book A Tall Dog Music Artist, What Happens Next?
---
First of all we check availability of your chosen artist or DJ. If available, we then raise a draft contract for your booking, outlining all of our terms and conditions.
If agreeable, we ask you to sign a copy and email this back to us along with the requested deposit, and upon receipt you will receive written confirmation of your booking. The remaining balance is always asked a minimum of 1 week prior to your booking to enable us to be able to pay the aritst/musician on the day.
---
My Chosen Venue Has A Sound Limiter - Can We Still Have Live Music?
---
Absolutely. Our artists are highly experienced and are used to working in all sorts of environments. If your venue has a sound limiter, our artists will ensure that they are comfortably within the limitations set by the venue. Alternatively, some of our artists can even adapt and switch from an electric to an acoustic set-up, which can be another effective way of making sure they are a good fit for your venue.
---
What is your COVID-19 Policy?
---
Should your wedding or corporate event be cancelled due to the current Covid-19 (Coronavirus) outbreak, Tall Dog Music will refund your deposit payment back in full. To date, we have not had any outright cancellations due to the virus and have instead been approached by couples who have chosen to postpone their weddings. Should this be the case for your booking, we will endeavour to secure your chosen artists for your revised date. If your chosen artist is already booked on the revised date, we will offer suggestions of other acts if we are aware they can offer music of a similar style. Should they not be of interest, you would receive your deposit payment back in full. Tall Dog Music aims to be transparent and fair in all of our communication with our clients and we hope the above provides some reassurances should you be looking for music in the future. We would love to be part of your celebrations if we can. If you have any further questions in relation to COVID-19 before wishing to make a booking with us, that isn't covered in the above, please do feel free to get in touch via our Contact Page
---
---
Party Band FAQs
Will Our Live Act Learn Our First Dance Should We Wish Them To?
---
All of our acts are more than happy to learn any first dance of your choice included within their pricing. Some of our more stylised bands will even create a special arrangement of your tune to suit their style too!
---
If I Have Booked A Live Act, What Happens In-Between Performances?
---
A lot of couples save on the cost of hiring an additional DJ if they have booked one of our bands by having an iPod/Mp3 player playing through the band's PA system in-between performances. This is in attractive option for a couple of additional reasons too -
It allows you both to create your own playlist shoud you wish and choose exactly the music that you and your guests get to listen to all night. Some couples even ask their guests to pick a song they love and then add (the best!) of these to ensure that all their friends and family get to hear the music they love on the night too. Alternatively the band can play one of their own pre-made set lists if you would rather leave the music entirely to them for the evening. With playback options on musical services such as Spotify, Deezer etc. now allowing gapless playback, fading straight from one tune in to another, means that the unwanted silence between tunes that you would have experienced in previous years is now a thing of the past!
---
Can We Choose Songs From Our Chosen Artists Set List?
---
All of our party bands want you to hear the music you love on the night. For all of our acts, you are welcome to choose any songs from their set list that you would definitely love to be included and if applicable, you are also welcome to ask the band not to play any songs that you particularly don't like too.
---
When Would The Band Play On The Evening?
---
As standard, our party bands will perform for two hours, divided up over the evening as you wish. In terms of a typical evening, we normally advise timings similar to the below 7pm-9pm: Music playing through Band's PA 9pm-10pm: First Set 10.00pm-10.30pm: Music playing through Band's PA 10.30pm-11.30pm: Second Set 11.30pm-12.00am: Music playing through Band's PA Couples are often surprised that we don't suggest starting the first until around 9pm. We suggest this time for a few reasons
If you have evening guests arriving, it allows them the opportunity to catch-up with guests and have a couple of drinks before being expected to leap on the dancefloor.
It allows the night to continually build; with the excitement of live music happening at the peak times of the evening.
Often weddings occur in summer and it may not be getting dark until late evening. From experience we have found guests feel less inhibited and self-conscious once it is dark!
It is often helpful to view your wedding night similar to any 'normal' night out with friends; it would be rare for most people to normally be up and dancing much before 9pm. Guests want to chat and enjoy each others company. The dancing will naturally follow!
A slightly later performance start time allows all of your guests to have that essential extra drink or two that ensures as soon as the live music starts, they are firmly ready to hit the dancefloor.
You will still have upbeat music playing through the band's PA system from 7pm so any guests that want to be up and dancing before the band's first set, still have the option to.
---
I Want To Make My Evening Extra Special - Can I Add More Musicians To My Band?
---
In most cases - yes. If you feel that you would like extra musicians such as trumpet players, saxaphone players etc. (should your chosen band's orginal line-up not include them), let us know. Many of our acts have the option to add both additional musicians, and vocalists. Similarly - Tall Dog Music hopes that we can work work all budgets and if your chosen band's full line-up might be slightly out of reach, a lot of our band's offer stripped down versions of their line-up to ensure you can still have the first band of your choice for your special day.
---
---
DJ FAQs
How Do I Know My DJ Will Play The Music We Love?
---
Once you have booked one of our DJs, around a month or so before your event date, they will ask you both for a list of 20 or so tunes/artists that you both love and will create a tailor made set-list for your evening based from there. If you would both like to have a greater input still, you are more than welcome to give the DJ an entire playlist for the evening. It is your event and they are there to serve you! Whatever the type of music is that you love; pop; rock; funk, soul, rnb, House, etc. we have DJs that specialise in your chosen style.
---
Will My DJ Take Requests On The Evening?
---
All of our DJs are more than happy to take requests from both you and your guests on the evening
---
Will My DJ Talk Over The Tunes?
---
No! All of our DJs are instructed to refrain from unnecesary talking over the music. They are there soley to play great music and ensure that you and your guests get on the dancefloor and stay there!
---
Could My DJ Make A Couple Of Announcements On Our Behalf If Desired?
---
Our DJs are more than happy to make any necessary announcements on the evening on your behalf if desired; such as announcing the cutting of the cake; your first dance; or your evening buffet should you be having one.
---
What Lighting Options Do I Have?
---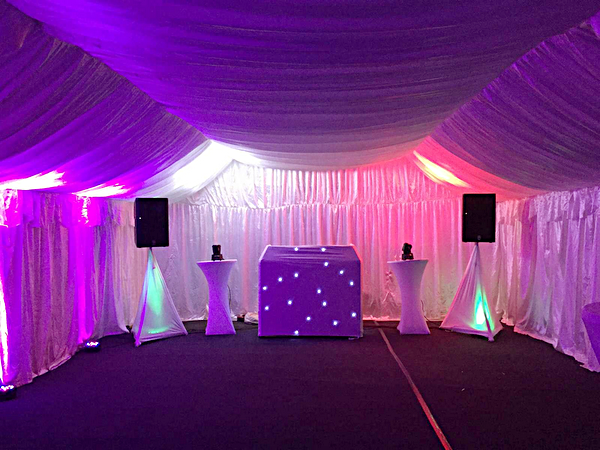 All of our DJ pricing includes a standard lighting rig, similar to the example pictured above. Our DJs all come with modern LED based lighting rigs which can be set to any colour scheme to ensure they work with your venue perfectly. Some DJs offer optional upgrades such as uplighters around the room; illuminated 'LOVE' letters; or the first letters of each of your name, for example 'A&B' As a general rule, we feel that 'less is more' with DJ lighting and we work with you and your venue to ensure we light the space as tastefully as we can and that it is complements your chosen venue.
---
What Makes Tall Dog Music DJs Special?
---
We believe we can offer DJs that are a cut above the rest for your wedding or special event. Our DJs go far beyond turning up, and just pressing 'play'. They will properly mix the music you love, resulting in music that excites and giving your evening an energy that will get your guests up and dancing. Some of our DJs also mix from vinyl should this be of interest too for a more traditional DJ feel to your evening.
---
---
Ceremony/Background Artist FAQs
What Time Would My Ceremony Act Arrive?
---
Your ceremony artist would arrive with sufficient time to ensure they are entirely set up, and sound checked, ready to play for 20 minutes as your guests enter to take their seats for the ceremony. Set up times are typically 15 - 30 minutes.
---
When Would My Ceremony Artist(s) Perform During The Ceremony?
---
Your ceremony artist will happily perform any music of your choosing for your entrance music, music as you both bsign the register and your exit music.
---
Would My Ceremony Choices Have To Be Classical?
---
If you would like classical music for your ceremony, our solo pianists, guitarists, harpists and string quartets can all provide this for you. All styles of music are welcome for the ceremony. Most important is that you both choose music that you love, reflects you, and that will help make this part of your day as special as it should be!
---
How Long Would My Ceremony Artist Play After The Ceremony?
---
You are welcome to have your chosen ceremony artist play for after the ceremony for as long as you wish.
Our standard pricing when quoting for ceremony packages, includes music for an hour after the ceremony, as you and your guests enjoy a celebratory drink, pose for photographs etc.
---
Could My Ceremony Artist Play Outside?
---
All of our ceremony artists are able to play outside. If they require amplification, all that is asked is that your chosen venue can provide them with a power source within 15 metres of where you would like them to perform.
---
How Many Pieces Of Music Would I Need To Choose For My Ceremony?
---
We would ask you to chose a piece for your entrance music, two pieces for when you are signing the register and also one final choice for your exit music - so four in total!
---
---